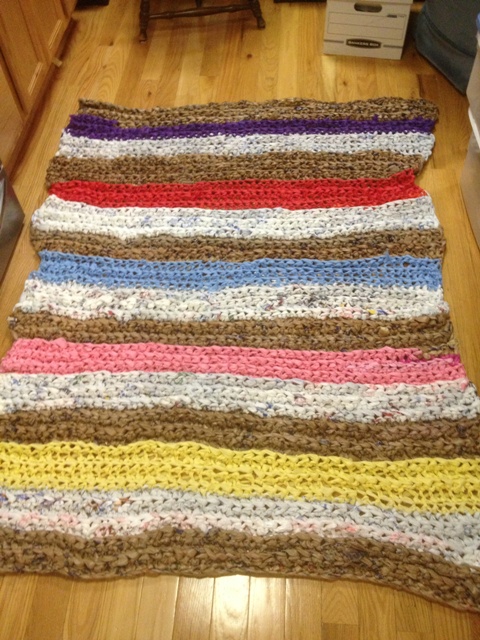 Plastic bags that would normally be on their way to the landfill can find a new lease on life when crocheted into these beautiful soft sleeping mats – a great improvement from sleeping on the ground. For many people, life is tough, including actually sleeping on the ground, since homes and soft beds are scarce for people who have survived natural disasters such as earthquakes, hurricanes, typhoons, landslides and worse. Other people may be homeless for a wide variety of reasons. It takes about 700 bags to make one large sleeping mat suitable for a couple or small family to share, so start collecting now! Please scroll down for complete instructions.
Haiti Mission Trip is accepting mats to take with them. Note: The group that is going to Haiti on a regular basis is requesting that the mats be 3 feet by 4 feet.
Send to:
Haiti Mission Trip
c/o Fredonia Hill Baptist Church
1711 South Street
Nacogdoches, Texas 75964
COMPLETE INSTRUCTIONS
Sleeping Mats
Size Q crochet hook
Plastic Shopping bags
Scissors
Straighten and flatten the plastic bags one at a time.
Fold lengthwise once.
Fold lengthwise again.
Cut off handle portion and the seam at the bottom.
Fold in half from top to bottom, cut on fold
Fold again in half from top to bottom, cut on fold.
The results will be four circles of plastic.
To make a ball of "yarn", attach each circle to another by slip knotting the two together. A ball that is 42 inches in diameter will make about one third of a mat.
Chain enough to make 48 inches. Crochet in single crochet rows until mat is six feet long.
These mats will go to homeless people in Haiti.